Life here in Baños is still wonderful. We had an earthquake the other night that woke most everyone. No damage and it only lasted for a few seconds. I thought it was Tungurahua acting up but as far as I have been able to tell that was not the case. Just an earthquake nothing more. One of the natives here explained to me that it was just anouncing the change in weather. Now that is pretty scientific. The last two days have been beautiful with the rain coming mostly at night and the early morning.
After three months here the things that I miss most are my books. I had to leave most of them behind in Mexico because of the weight. That reminded me of all of the yard sales in the USA where you could buy books of all descriptions for as little as $025, I got a little homesick. There are no bookstores here, however several of the restaurants that cater to the visitors have used books for trade or rent. The Restaurant Good allows you to read while you dine. It is a great way to get you to come back until you finish the book. I have found on several occasions I have got two-thirds through a book and then rented it for $1.75 so that I could take it out and finish it.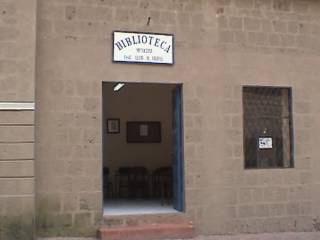 There is a very small public library here that I visited two days ago. I had passed it many times and finally stopped in. I found to my surprise that they did have a few books in English and if I left my identification I could take one home. The number of books that they have in all languages is small however, so I decided to do a little anonymous volunteer work. If any of you out there believe, as I do, that books are the key to knowledge, and would like to donate a book, in any language, send it to: Municipio de Baños de Agua Santa Biblioteca, Baños de Agua Santa, Tungurahua, Ecuador.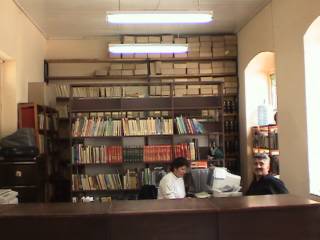 Baños Library. The librarian has been here for 16 years.